Complete High School U.S. History Curriculum
Exploring America by Ray Notgrass is an American history high school curriculum. It provides one full-year of credit in American history, English (literature and composition), and Bible.
Your high school student will gain a rich understanding of our nation's past by reading the history narrative and primary source documents, reading classic American literature, completing writing assignments and hands-on projects, and studying what the Bible says about issues and ideas in history.
Buy Now
Quick Overview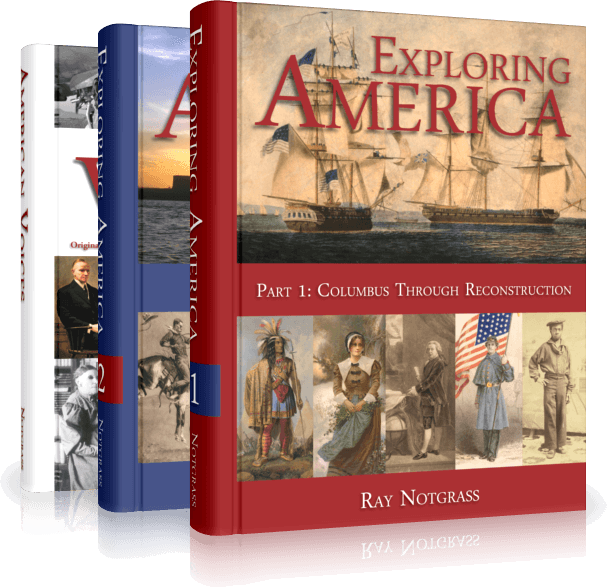 Designed to be easy-to-use for parent and student, each of the 30 weekly units in Exploring America has an introduction that features a summary of the material covered, a list of lessons, books required for that unit, and suggested writing assignments. Each of the 150 daily lessons (five lessons per week) includes the history text and the reading assignments for that day (and those in progress). A focused student can direct his own study, and the parent can offer as much interaction as needed. Depending on how fast your child reads and how much time he spends on the weekly project, he may need an average of 2-3 hours for each daily lesson.
Exploring America presents history from the perspective of faith in God and respect for His Word. Each unit includes a Bible study highlighting spiritual issues related to history. It is comprehensive, giving students a survey of events and issues from European exploration to the war on terror, with extensive coverage of the twentieth century. The Exploring America Curriculum Package includes three books:
Part 1: Columbus through Reconstruction (first semester)
Part 2: Late 1800s through the Present (second semester)
American Voices: A Collection of Documents, Speeches, Essays, Hymns, Poems, and Short Stories from American History (assigned readings)
Completing the full course provides your child with one year of high school credit in three subjects: American History, English, and Bible. The History credit involves reading the lessons and the original documents and speeches, and answering the questions in the optional Student Review Pack if desired. The English credit involves completing several writing assignments, including one research paper; and reading the assigned literature, poems, and short stories in American Voices. The Bible credit involves reading the Bible lessons, completing the Bible assignments at the end of many lessons, and reading the hymns and other religious literature assigned.
Author Ray Notgrass Explains the Curriculum
In addition to the assigned readings from American Voices, the curriculum also assigns the following twelve works of literature. Specific page numbers are not assigned, so you do not have to use particular editions. We offer them for sale as a set or individually for your convenience.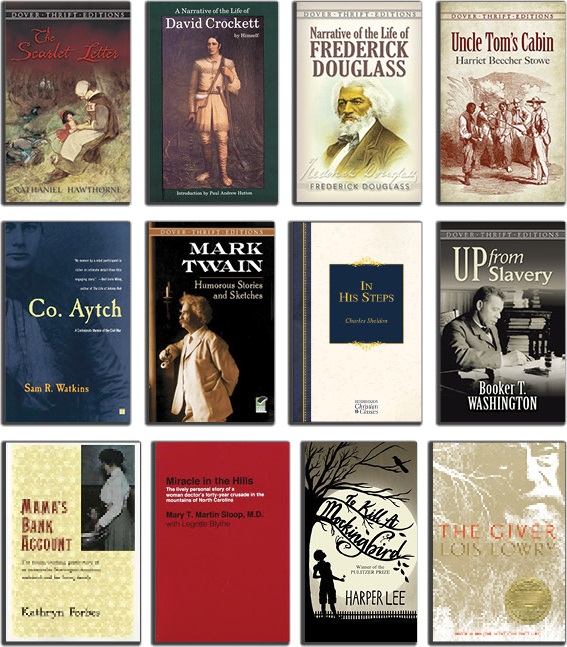 Part 1
Units 2-3: The Scarlet Letter (Nathaniel Hawthorne)
Units 6-7: Narrative of the Life of David Crockett (David Crockett)
Unit 8: Narrative of the Life of Frederick Douglass (Frederick Douglass)
Units 9-11: Uncle Tom's Cabin (Harriet Beecher Stowe)
Units 12-13: Co. Aytch (Sam Watkins)
Unit 15: Humorous Stories and Sketches (Mark Twain)
Part 2
Units 16-17: In His Steps (Charles Sheldon)
Unit 18: Up From Slavery (Booker T. Washington)
Unit 19: Mama's Bank Account (Kathryn Forbes)
Units 20-21: Miracle in the Hills (Mary T. Martin Sloop and LeGette Blythe)
Units 22-23: To Kill a Mockingbird (Harper Lee)
Unit 27: The Giver (Lois Lowry)
Excited About History
"I have homeschooled our 14-year-old son for 6 years now, and he has never been as excited about history as he is now! Your curriculum and products are truly a blessing to our family!" (California)
Surpassed My Expectations
"I anticipated it being wonderful, and it has surpassed my expectations. In addition to completing the course, my son has passed the CLEP tests for American History I and II. He interacted with the issues using Scripture in this course, with great focus on what was happening spiritually in America amidst other events. The value of that is much greater than the college credit earned!" (Texas)
Easy to Read
"[My daughter] is using your American History curriculum and absolutely loves it! She says she likes it because it is easy to read (not dry) and doesn't just give you the facts about history, it tells you about the people and politics that lead up to events in history. She loves to read the speeches and documents that go along with it too." (Pennsylvania)
Enabled Me to Feel Confident
"I was very thankful to find a history curriculum that looked at history from God's perspective. I especially like the Bible study that is included in each unit because it really shows the student God's perspective on what man was doing during that time period. This curriculum has enabled me to feel confident that my daughter is getting a good education but not one that is boring and dry." (Oregon)
The Curriculum Package includes Exploring America Part 1 and Part 2, American Voices (a collection of original source documents), and Guide for Parents. This package gives you all of the lessons and assignments you need to complete the course, but it does not include any review or test material or the recommended literature.
The Student Review Pack includes the Student Review, with daily review questions, and literature review questions; the Quiz and Exam Book, with a quiz for each unit and six exams; and the Answer Key.
The Literature Package includes the twelve books assigned as part of the English credit. The set includes six novels, five biographies and personal narratives, and a collection of short stories.
This bundle includes all of the books listed above. You get the Curriculum Package, Student Review Pack, and Literature Package. You'll have everything you need for your student to earn a year of credit in American history, English, and Bible.
The Exploring America Audio Supplement is great for busy moms, siblings learning together, auditory learners, students with special needs, and families on the go. It does not replace the printed curriculum but is intended to be used alongside it. The audio recordings contain the full text of each lesson, except for the list of lesson assignments at the end.
Need an extra quiz book or individual literature title?
Need an assignment checklist or updates?
Ready to purchase?
Order by phone (1-800-211-8793) or use the product links below to order online. If you have any questions about choosing the right options for your child, you can call, text, or email us.
We offer a full money-back guarantee on all Notgrass History products. We want you to be delighted with your purchase.