Complete High School World History Curriculum
Exploring World History by Ray Notgrass is a one-year homeschool curriculum for high school that teaches students to understand history from a Christian perspective of faith in God and respect for the Bible. It provides one full-year of credit in world history, English (literature and composition), and Bible.
Your high school student will gain a rich understanding of world history by reading the history narrative and primary source documents, reading classic literature, completing writing assignments and hands-on projects, and studying what the Bible says about issues and ideas in history.
Buy Now
Quick Overview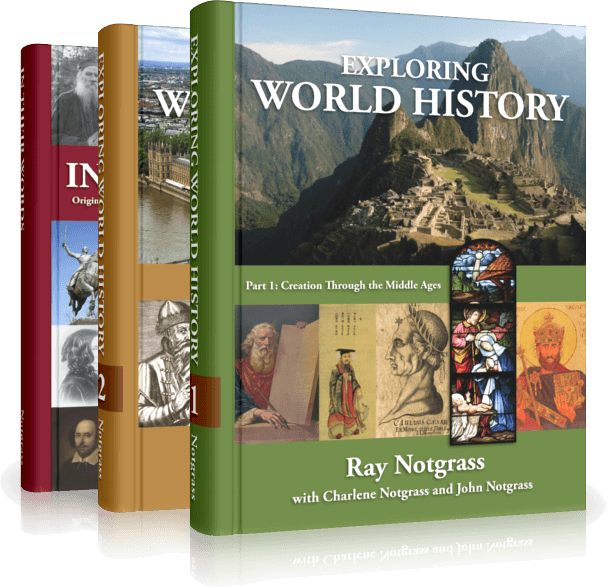 From Creation to the 21st century, Exploring World History presents ancient, medieval, and modern history from the perspective of faith in God and respect for His Word. It offers a thorough survey of Western civilization with significant coverage of Latin America, Africa, and Asia. The hardcover books feature hundreds of full-color photographs and illustrations.
The Exploring World History Curriculum Package includes three books:
Part 1: Creation Through the Middle Ages (first semester)
Part 2: The Renaissance to the Present (second semester)
In Their Words: Original Documents, Speeches, Poems, and Stories from World History (assigned readings)
Exploring World History is designed to be easy-to-use for parent and student. Each of the 30 weekly units has an introduction that features a summary of the material covered, a list of lessons, Bible memory work, books required for that unit, and suggested writing assignments and hands-on projects. Each of the 150 daily lessons (five lessons per week) includes the history text and the reading assignments for that day (and those in progress). A focused student can direct his own study, and the parent can offer as much interaction as needed.
Completing the full course provides your child with one year of high school credit in three subjects: World History, English, and Bible. Depending on how fast your child reads and how much time he spends on the unit projects, he may need an average of 2-3 hours for each daily lesson. The history credit involves reading the lessons and the original documents (and answering the questions in the optional Student Review if desired). The English credit involves completing several writing assignments, including one research paper; and reading the assigned literature, poems, and short stories in In Their Words. The Bible credit involves reading large portions of the Bible and completing the Bible study lesson for each unit. The unit projects offer a wide variety of activities that tie into history, English, and Bible.
Author Ray Notgrass Explains the Curriculum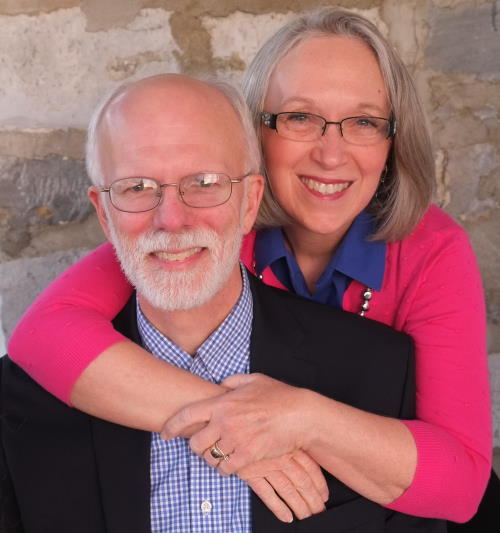 Ray Notgrass is a follower of Jesus and a veteran homeschooling father. He met his wife, Charlene, at Middle Tennessee State University in the political science department. After graduating they were married in 1974. Ray went on to earn master's degrees in history and New Testament. Ray and Charlene are lifelong history lovers and began writing homeschool curriculum in 1999. They enjoy classic literature, traveling together, and spending time with their children and grandchildren.
In addition to the assigned readings from In Their Words, the curriculum also assigns the following twelve books. Specific page numbers are not assigned, so you do not have to use these particular editions. We offer them as a set or individually.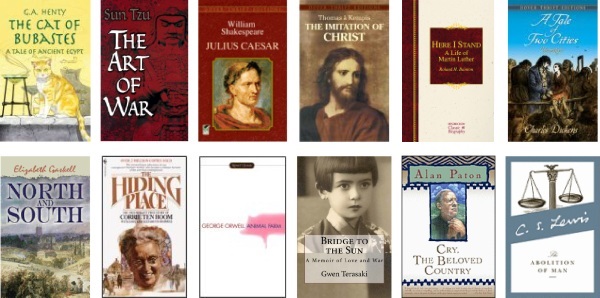 Part 1
Units 3-5: The Cat of Bubastes (G. A. Henty)
Unit 8: The Art of War (Sun Tzu)
Unit 10: Julius Caesar (William Shakespeare)
Units 13-14: The Imitation of Christ (Thomas à Kempis)
Part 2
Units 16-18: Here I Stand (Roland Bainton)
Units 19-20: A Tale of Two Cities (Charles Dickens)
Units 21-22: North and South (Elizabeth Gaskell)
Units 23-24: The Hiding Place (Corrie Ten Boom)
Unit 25: Animal Farm (George Orwell)
Units 26-27: Bridge to the Sun (Gwen Terasaki)
Units 28-29: Cry, the Beloved Country (Alan Paton)
Unit 30: The Abolition of Man (C. S. Lewis)
Grounded in the Scriptures
"Not only are [my daughter and I] learning history together, we are seeing it all from a Christian worldview, which is giving my daughter perspective as she sees it all unfold chronologically. She is also becoming more grounded in the Scriptures and learning the character and nature of God." (North Carolina)
Quality But Affordable
"Our daughter Hannah is in 9th grade and is loving World History! We have struggled to find a History curriculum that is not only quality but affordable, Christ-centered and thorough. The way that Bible, Literature and History are tied together and discussed is wonderful. The schedule has been invaluable, as Hannah is able to mark off what she has done and keep herself on track." (Idaho)
Excited About What She Was Learning
"My daughter grew spiritually this year. I attribute a lot of her growth to [Exploring World History]. Ray Notgrass taught this history in such a way that she learned to look at history from God's perspective, which helps her to interpret current events in light of God's word. She came to me every day so excited about what she was learning about God and His ways." (Oklahoma)
Captured Their Interest
"Both my teens absolutely loved the integrated World History, Literature, and Bible program from Notgrass. This program captured their interest and understanding. They would consistently comment on the Bible timeline cleverly interwoven with the world history text and enjoyed reading designated Bible passages along side with corresponding history. Reading Christian literature relating to the era being studied paints a clearer perspective of ancient history." (Florida)
The Curriculum Package includes Exploring World History Part 1 and Part 2, In Their Words (a collection of original source documents), and Guide for Parents. This package gives you all of the lessons and assignments you need to complete the course, but it does not include any review or test material or the recommended literature.
The Student Review Pack includes the Student Review, with daily review questions, literature review questions, and Bible commentary; the Quiz and Exam Book, with a quiz for each unit and six exams; and the Answer Key.
The Literature Package includes the twelve books assigned as part of the English credit. The collection includes five novels, a play, three biographies, and three other non-fiction works.
This bundle includes all of the books listed above. You get the Curriculum Package, Student Review Pack, and Literature Package. You'll have everything you need for your student to earn a year of credit in world history, English, and Bible.
Need an extra quiz book or literature title?
Need an assignment checklist or updates?
Ready to purchase?
Order by phone (1-800-211-8793) or use the product links below to order online. If you have any questions about choosing the right options for your child, you can call, text, or email us.
We offer a full money-back guarantee on all Notgrass History products. We want you to be delighted with your purchase.