Notgrass History helps families like yours succeed at homeschooling. Students enjoy learning and parents feel confident teaching. Watch our one-minute video for a quick introduction: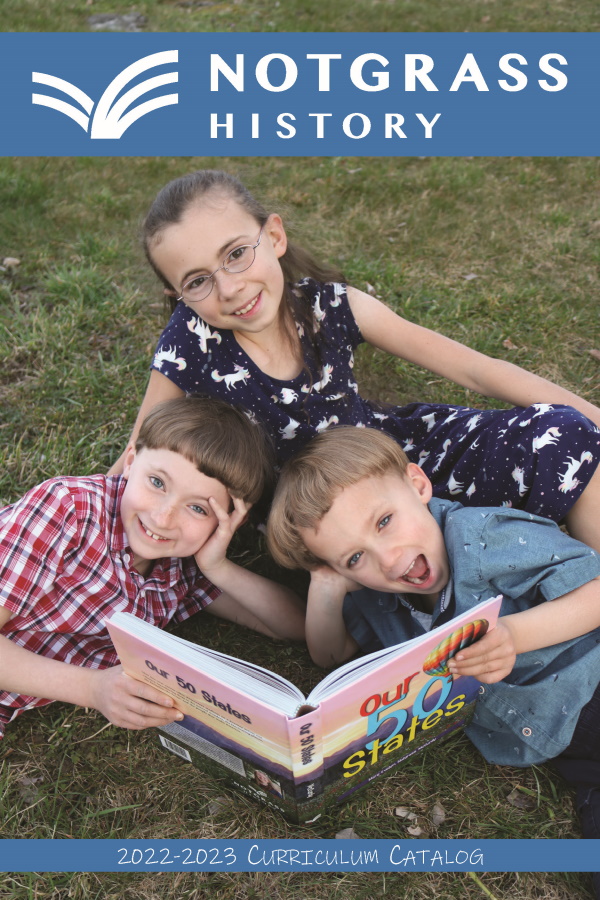 Notgrass History curriculum uses narrative lessons, primary source documents, historical novels and biographies, and hands-on activities to create engaging learning experiences for homeschooling families like yours.
All of our courses have a Curriculum Package that includes all of the instructions, lessons, and project assignments you need. You don't need a Teacher's Manual or lesson plan. Everything is laid out so you know what to do each day.
For each course, we also have optional review and test material. For elementary, we offer a simple Workbook. For middle school, we offer either a Student Workbook or Lesson Review. For high school, we offer a Student Review Pack.
Then you also have the option to purchase a Literature Package.
The links below provide detailed information about how our curriculum works. You can watch videos, browse sample pages, and see how the curriculum components fit together. You can also download our catalog or request a print copy.
Elementary (Grades 1-4)
Our elementary curriculum gives younger children an introduction to important concepts and helps them see how families like theirs played a role in big historical events.
"It is obvious in every aspect of this curriculum that it was written by a homeschool family for homeschool families." (Washington)
Middle School (Grades 5-8)
Our middle school courses provide a rich, interactive experience for children with a variety of learning styles. Each curriculum includes complete daily instructions for how to use the course.
"I can say that for the first time in my homeschooling career I have found curriculum that has exceeded my expectations and a curriculum that my kids love." (Pennsylvania)
High School (Grades 9-12)
Our curriculum is easy for parents, requiring little planning or preparation. Our curriculum is rewarding for students, helping them learn to analyze the present by understanding the past.
"My 9th grade daughter is taking your World History course and, I have to tell you, this is the most enjoyable school year she has ever had!" (Georgia)
Other Resources
In addition to our history and government curriculum, we offer a variety of art resources, unit studies, historical DVDs, and a record-keeping book for all ages.