Using America the Beautiful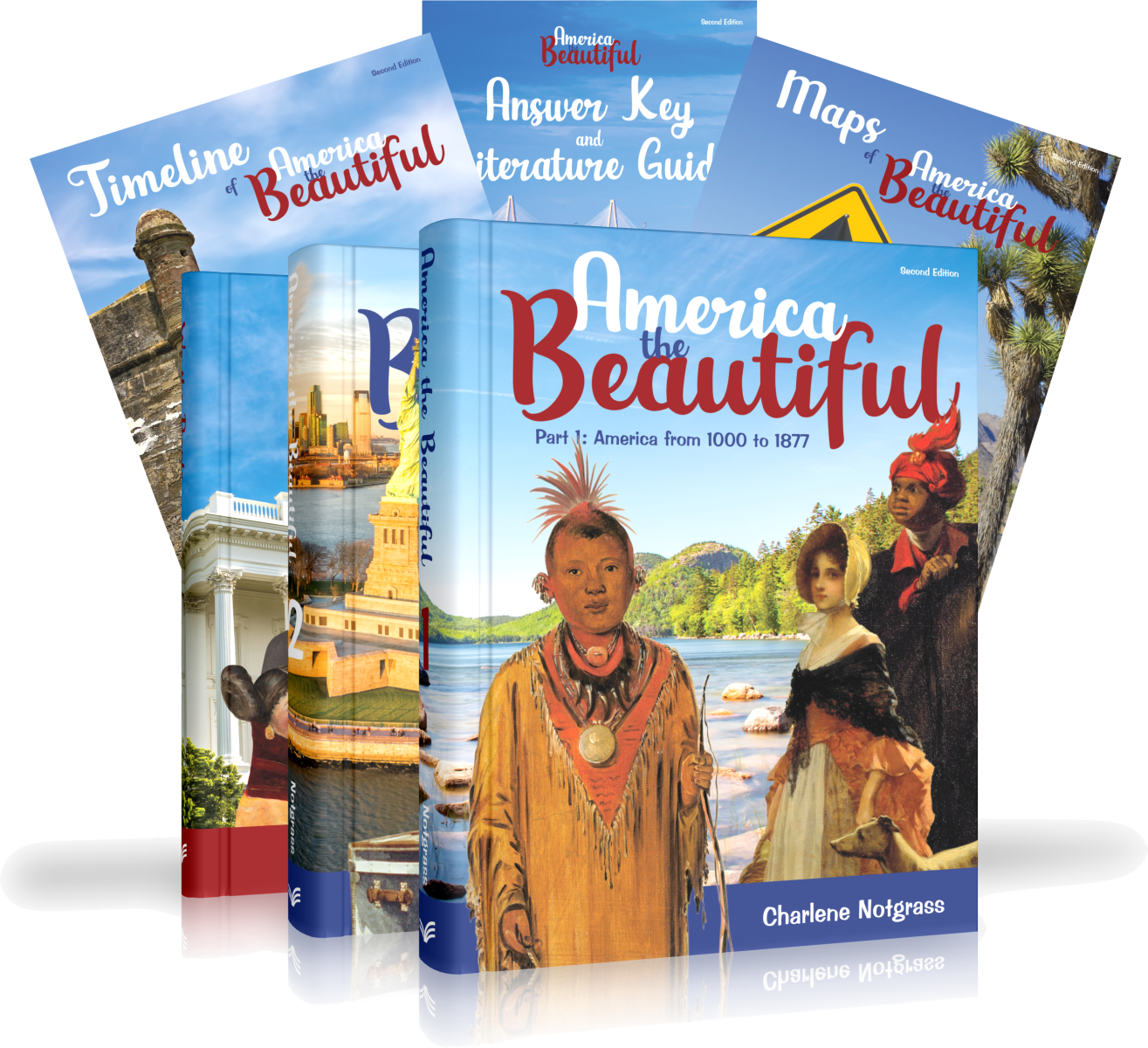 How It Works
America the Beautiful by Charlene Notgrass is a one-year American history, geography, and literature course designed for students in grades five to eight. It combines the flexibility and richness of a unit study with the simplicity of a textbook-based approach to history.
All of the instructions for how to use the course are included in America the Beautiful Part 1 and Part 2 so you do not need a separate teacher's manual. The daily instructions are very easy to follow. Many students will be able to follow the instructions on their own.
Each of the thirty units has five lessons. You can complete the curriculum in one year by doing one lesson per day for 150 days during your school year. While this course is designed for children in grades 5-8, younger children can listen to the lessons and participate in the family activities.
Your child can read the daily lessons on his own or you can read the lessons aloud. The lessons are richly illustrated with color and black-and-white historical photographs, illustrations, and artwork. At the end of each lesson is a list of about four to six activities. Students are not necessarily expected to complete all of these activities. You may choose which activities you wish to assign.
Depending on how many activities you assign, most students will need 45-90 minutes to complete one lesson. The types of activities vary from day to day. They include:
Reading assignments from We the People (excerpts from letters, speeches, poems, newspaper articles, and other primary sources)
Map work in Maps of America the Beautiful
Entries in Timeline of America the Beautiful
Assignments in the Student Workbook or Lesson Review
Thinking Biblically
Vocabulary
Creative writing
Reading assignments in the literature titles
One special family activity is assigned each week. These include craft and art projects, recipes, and other multi-age activities. Each activity is assigned with its related lesson, but you may do it any day of the week. You will need to allow extra time to complete your America the Beautiful assignments on the day you do the family activity.
Author Charlene Notgrass Explains This Curriculum
Types of Lessons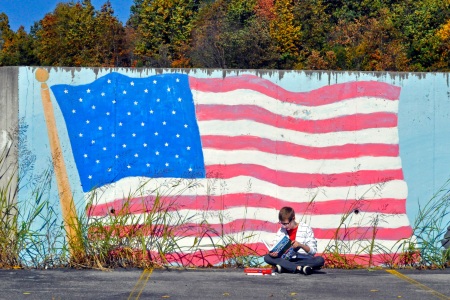 Each unit includes one lesson in each of the following categories:
Our American Story - A lesson telling major events of the time period of the unit. These lessons include, for example, "Europeans and Native Nations Meet on the West Coast," "Putting America Back Together," and "President Roosevelt and the New Deal."

God's Wonder - A lesson about an amazing creation God placed in America that relates to the unit's time period. For example, students learn about Yellowstone after the Civil War, when it became a National Park; and they learn about the Black Hills in the unit on the 1920s, when work on Mount Rushmore began.

American Landmark - A lesson about an important site in American history that relates to the unit's time period. For example, students learn about the Erie Canal during the early 1800s, and they learn about integration at Little Rock Central High School during the 1950s.

American Biography - A lesson about a person who lived during the time period being studied. For example, First Lady Abigail Adams is featured in a unit on the early 1800s, and baseball star Jackie Robinson is featured in the unit on life after World War II.

Daily Life - A lesson about how certain people lived and worked during the time period of the unit. For example, when studying the colonial period, students learn about colonial craftsmen and merchants, and when studying World War II, they learn about life on the home front. Several lessons also highlight daily life for members of native nations in different parts of the country.
The Books Used
America the Beautiful Part 1
This book has 75 lessons beginning with life in America before Europeans came and continuing through the first years after the Civil War.


America the Beautiful Part 2
This book has 75 lessons beginning with the late 1800s and continuing to the present.


We the People
A collection of original journal entries, newspaper articles, advertisements, poems, songs, letters, short stories, speeches, and other historic documents from American history.


Maps of America the Beautiful
A collection of 30 maps drawn especially to accompany this curriculum. Your child will often refer to a map while reading a lesson in America the Beautiful and do activities on the map at the end of the lesson.


Timeline of America the Beautiful
This is an illustrated timeline of American history from AD 1000 to the present designed specifically to include facts learned in the lessons. Some facts are already printed on the timeline. After each lesson, your child will add an event mentioned in the lesson to the timeline.


America the Beautiful Answer Key
Includes answers for the Timeline, Student Workbook, Lesson Review, and the vocabulary assignments included in the main text.
In addition to these core books, we offer two optional books to help measure your child's understanding of the material. You can choose to use one, both, or neither.
Student Workbook
A book of crosswords, find-a-words, matching, codes, drawing assignments, and other handwork activities which review and reinforce information learned in the daily lessons. It also includes literature review questions and weekly unit tests.


Lesson Review
A book of daily lesson review questions, literature review questions, and weekly unit tests.
The Literature
Ten works of literature are assigned in the America the Beautiful curriculum to give your child a richer perspective on the various time periods studied. The student is usually assigned 1-2 chapters per day. The first five books go with Part 1, and the next five books go with Part 2.
Growing Up Dakota by Charles Eastman (Units 2-5)
Amos Fortune: Free Man by Elizabeth Yates (Units 6-7)
Brady by Jean Fritz (Units 9-10)
Bound for Oregon by Jean Van Leeuwen (Units 12-13)
Across Five Aprils by Irene Hunt (Units 14-15)
Little Town on the Prairie by Laura Ingalls Wilder (Units 16-17)
All-of-a-Kind Family by Sydney Taylor (Units 19-20)
Blue Willow by Doris Gates (Units 21-22)
Homer Price by Robert McCloskey (Unit 25)
Katy's Box by Mary Evelyn Notgrass McCurdy (Units 29-30)
Bonus Downloads
An assignment checklist and other supplemental downloads are available.
Look Inside
Table of Contents / Introduction
What Parents Are Saying
Best History Curriculum
"We have been homeschooling for 9 years and hands down this is the
best history curriculum
we have ever used. It is user friendly, rich in content, and [my children] are learning history! This is a comprehensive history book, obviously designed and written by someone who loves history. It is
very clear and balanced.
"
(Mississippi)
Makes Learning About History Fun
"I cannot rave about this program enough. American history is something we have not covered consistently and he is learning so much already and loves the mapwork, lesson review and worksheets part of his studies. Kudos on a great, well-rounded program that
makes learning about history fun.
"
(North Carolina)
Great for Independent Learning
"
America the Beautiful
is
great for independent learning.
My son enjoys the variety of assignments, original sources, and projects. It keeps my son's attention and interest much better than other curricula due to the
variety of assignments.
"
(Georgia)
It's All Laid Out for You
"Of all the curriculum I've used this has been the easiest to follow and actually get done! I love the way at the end of every lesson
it's all laid out for you:
workbook, map assignments, timeline, Bible, creative writing. It's so great to see it all on one page and have no guess work at what we should be doing. Also, it's not an overwhelming amount of work. It's
manageable chunks of reading
and the assignments at the end don't take a lot of time to complete. I also love how you have included the biographies and God's wonders into the units."
(Illinois)
Retain and Tell
"My thirteen-year-old has a very hard time remembering facts, but with Notgrass History, he's able to
retain the facts and then tell others
about them."
(Florida)
About the Author
Charlene Notgrass is a follower of Jesus and a veteran homeschooling mother. She received a bachelor's degree in urban planning from Middle Tennessee State University, where she met her husband, Ray, in the political science department. After graduating they were married in 1974. Ray and Charlene are lifelong history lovers and began writing homeschool curriculum in 1999. They enjoy classic literature, traveling together, and spending time with their children and grandchildren.
How to Purchase
Call 1-800-211-8793 or order securely on our website.