Using Our Star-Spangled Story
Our Star-Spangled Story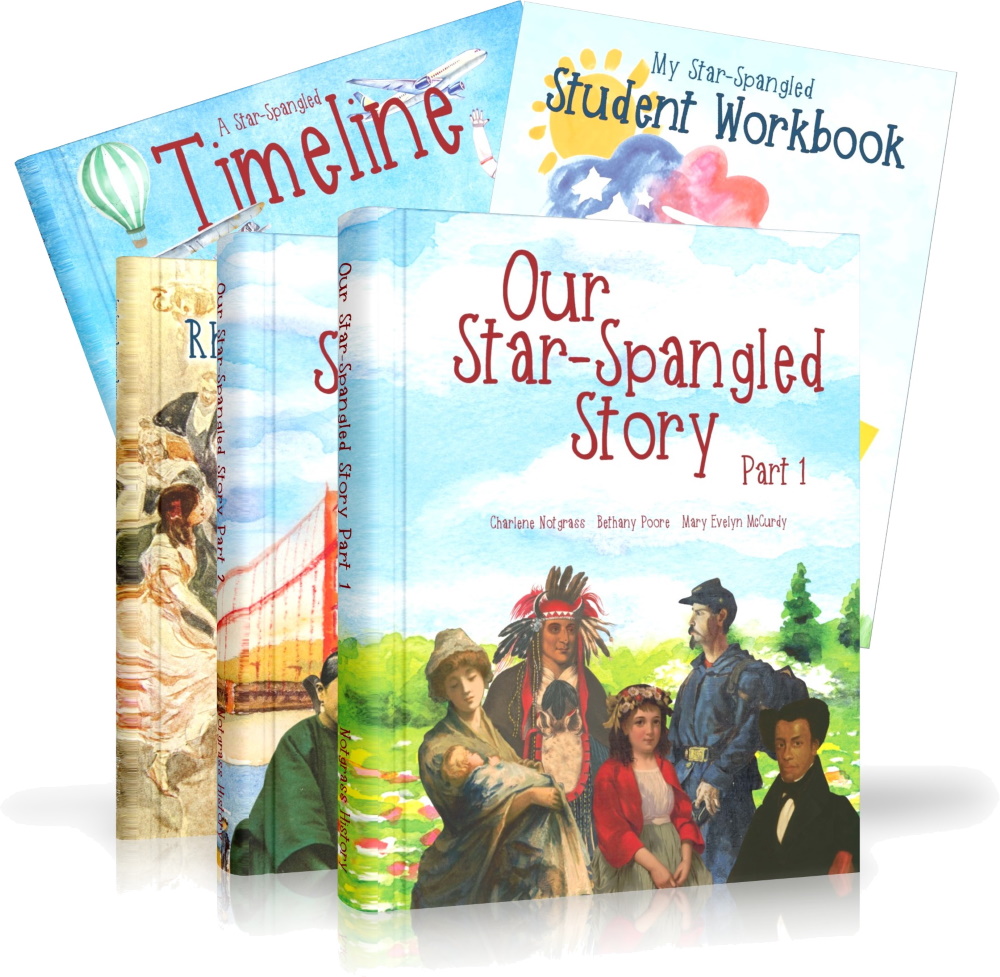 Designed for children in grades 1-4, Our Star-Spangled Story is a one year U.S. history course. It features simple lessons with easy-to-follow instructions, full-color photographs and illustrations, and engaging supplemental activities.
How It Works
Our Star-Spangled Story has a total of 90 lessons for use over one school year (30 units of 3 lessons each). All of the instructions for how to use the material are included in Part 1 and Part 2 so you do not need a separate Teacher's Manual. The daily instructions are very easy to follow.
Each weekly unit has three lessons. Students can read the lessons on their own, or you can read the lessons aloud. Each lesson is filled with full-color photographs, illustrations, and artwork. Reading one lesson will take 10-15 minutes. At the end of each lesson is a list of suggested activities. These include singing a song or learning a dance in Rhythms and Rhymes, looking at the Timeline book, completing a Student Workbook page, reading from one of the recommended literature titles, answering review questions, or doing a hands-on activity. You can pick the activities that work best for your family.
Authors Charlene Notgrass and Mary Evelyn McCurdy Explain the Curriculum
The Books Used
The Our Star-Spangled Story Curriculum Package includes all six books listed below, enough for one child to complete the curriculum. If you are using the curriculum with more than one child, you can purchase additional Student Workbooks.
Our Star-Spangled Story Part 1
This book has 45 lessons beginning with life in America before Europeans came and continuing through the late 1800s.


Our Star-Spangled Story Part 2
This book has 45 lessons that go from the late 1800s through modern times.


Star-Spangled Rhythms and Rhymes
This is a collection of 60 songs, poems, and dances. Each selection goes along with a particular lesson in the curriculum. The book includes a link to download or stream audio recordings.


A Star-Spangled Timeline


This beautiful, engaging reference is the perfect way to reinforce and review key people and events from the lessons.




My Star-Spangled Student Workbook
This book contains two handwork sheets and one review page for each unit. (This is the only consumable book in this curriculum.)


Our Star-Spangled Story Answer Key and Literature Guide


This book for parents contains answers for the lesson review questions in the text and the

Student Workbook

activities. It also includes a guide and discussion questions for the literature titles incorporated in

Our Star-Spangled Story

.
The Literature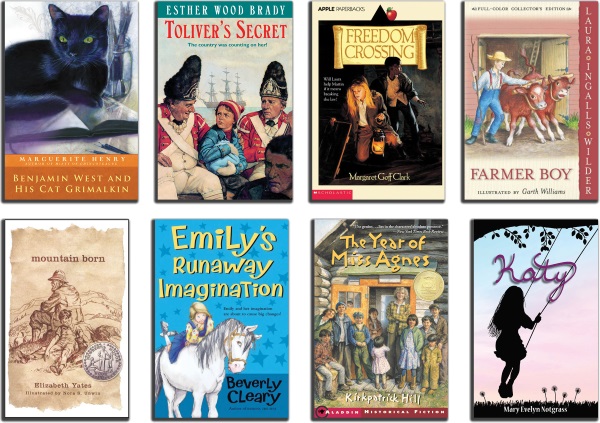 We recommend eight works of literature to read along with the lessons in Our Star-Spangled Story. Each book gives your child a richer perspective on a certain time period. The student has 3-5 weeks to read each book. The first four books go with Part 1, and the next four books go with Part 2.
Benjamin West and His Cat Grimalkin by Marguerite Henry (Units 1-4)
Toliver's Secret by Esther Wood Brady (Units 5-9)
Freedom Crossing by Margaret Goff Clark (Units 10-12)
Farmer Boy by Laura Ingalls Wilder (Units 13-15)
Mountain Born by Elizabeth Yates (Units 16-18)
Emily's Runaway Imagination by Beverly Cleary (Units 19-22)
The Year of Miss Agnes by Kirkpatrick Hill (Units 23-26)
Katy by Mary Evelyn Notgrass (Units 27-30) 
Bonus Downloads
An assignment checklist and other supplemental downloads are available.
Look Inside
Table of Contents / Introduction
Answer Key and Literature Guide
Audio Samples
These are sample audio recordings from Rhythms and Rhymes.
Listen to "The First Baby In Camp"
What Parents Are Saying
Open and Go
"I love that it is
open and go
and that it has great information that my kids enjoy listening to."
(Tara H., Washington)
Alive and Exciting
"History is
alive and exciting
with Notgrass! I so appreciate the Christian worldview presented throughout. Easy to use, and full of ideas of exciting ways to learn about American history, it has been an answer to my prayers!"
(Melody W., Montana)
Something the Kids Look Forward To
"This is our first year using Notgrass History, and I am so pleased with it! I love the literature books, the lessons are a good length and not over anyone's head, and the hands-on activities and crafts are fun and
something the kids look forward to
."
(Tiffany S., Indiana)
Packed Full of Colorful Pictures and Art
"The textbooks read like a story and are
packed full of colorful pictures and art!
The bundle also came with a beautiful timeline book as well as a songbook and CD that contains songs and poems from the different eras. The student workbook offers short activities without demanding any real busy work. We have been truly blessed by this curriculum and I am excited to say that even my daughter (who is more of a math and science kind of girl) has really loved and enjoyed this year's history lessons."
(Alyssa C., Texas)
About the Authors
Authors Charlene Notgrass, Bethany Poore, and Mary Evelyn McCurdy are a mother and daughters team. They have collaborated on other Notgrass History resources, including America the Beautiful, From Adam to Us, and Uncle Sam and You.
Charlene and her husband Ray Notgrass homeschooled their children through a rich whole-family, whole-life learning lifestyle. They are a family of history lovers, excited to share real-life stories from history with students and their parents all over the country.
Bethany and Mary Evelyn are now on the homeschooling journey with their own children, sharing history and a learning lifestyle with the next generation.
How to Purchase
Call 1-800-211-8793 or
order securely on our website
.